The national protests catalyzed by the killing of Mike Brown in Ferguson last August continue even as many (including the mainstream media) have moved on. Some critics have suggested that the uprisings/rebellions are leaderless, lack concrete demands and/or are without clear strategy. Each of these critiques is easily refuted so I won't concern myself with them here.
In Chicago, many have used the energy and opening created by these ongoing protests to re-animate existing long-term anti-police violence campaigns. On Saturday afternoon, hundreds of people gathered at the Chicago Temple to show our love for police torture survivors on the day after Jon Burge was released from house arrest.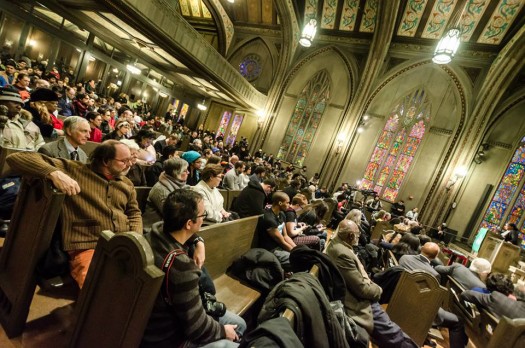 The gathering was billed as a people's hearing and rally in support of a reparations ordinance currently stalled in the Chicago City Council. Politicians, faith leaders, and community activists spoke at the event. Poets exhorted the crowd. But the most impactful, poignant and powerful words came from the Burge torture survivors themselves.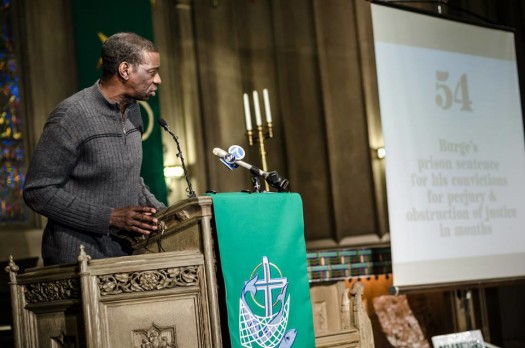 They spoke of the impact(s) of the police torture on their lives: the false confessions, the years of incarceration, the mental and physical trauma, the years away from loved ones, the feelings of anger and ultimately the triumph of still standing in spite of the brutal violence.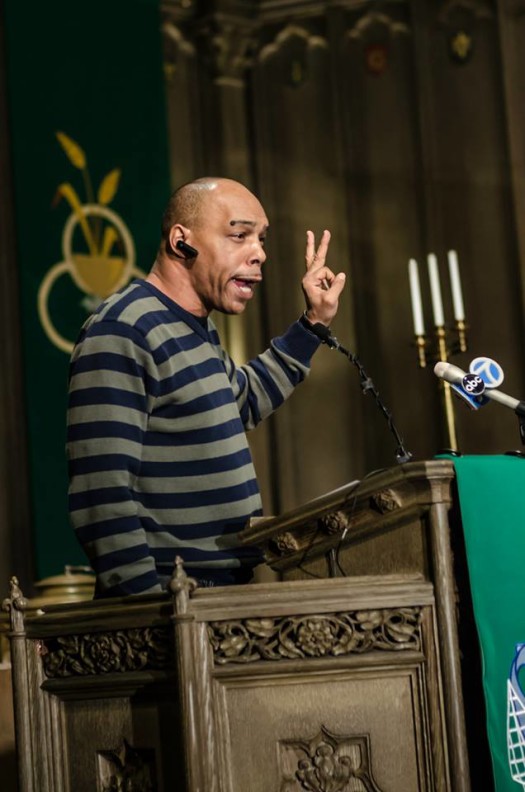 As I listened, I was struck again by the importance of language and of words that need to be spoken. Our best teachers including Audre Lorde among others have imparted this truth. In the last few months, weeks and days, I have found myself saying #BlackLivesMatter out loud at various times. It's not that I don't already know that they do. I think that I am trying to speak the words into existence. These words should be taken for granted. They are not. I've revised my previous belief that the words should remain unspoken. 'Who are they trying to convince?' I'd previously confided to a friend. It turns out that I owe a debt of gratitude to Opal, Patrisse and Alicia for reminding me of the power of language and the spoken word.
We are committed here in Chicago to "making" Black lives matter. The reparations ordinance is one concrete way that some of us have chosen to fight to make them matter. Through this decades long struggle, we are pre-figuring the world that we want to inhabit. Again, we have learned from Lorde (1977):
"…I mean that at the same time as we organize behind specific and urgent issues, we must also develop and maintain an ongoing vision, and the theory following upon that vision, of why we struggle — of the shape and taste and philosophy of what we wish to see."
It's not that Black lives will matter to others within this country when we win the ordinance. Rather, it's that we who struggle together will have defined (in part) the vision of what we mean by Black lives mattering. Through the ordinance, we reject the torture of black people. We demand that black people's torture be included in public school curriculum. We demand a formal apology from the city for the harm. We demand resources to heal including mental heath care, employment and free education for survivors and their families. We demand financial compensation for the harm done. The Burge torture survivors reparations ordinance embodies (in part) what we mean when we say that #BlackLivesMatter. It provides a template for demands that should be met for all Black people living in this country.
Every time that I travel to D.C. I try to visit the Vietnam War Memorial brilliantly designed by Maya Lin. I never want to forget the folly of nation and the tragedy of war. Seeing thousands upon thousands of names carved into that wall is profoundly jarring every time. With that imagery in mind, I wanted to create a living public memorial at the end of Saturday's rally. Using flags that were made and previously used by the Chicago Torture Justice Memorials, rally participants braved freezing temperatures to create a wall with their bodies at Daley Plaza.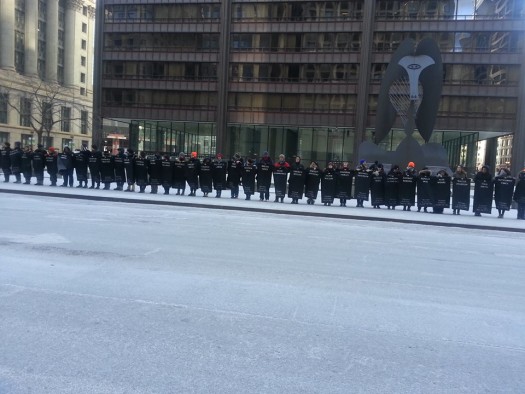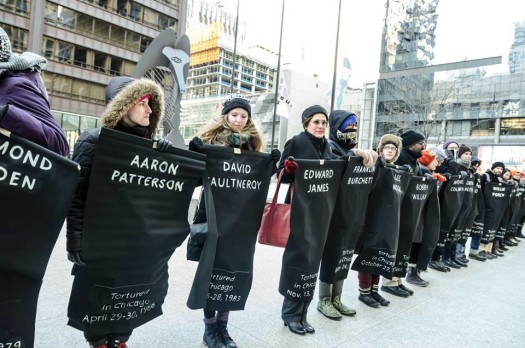 It was our wall of names, the survivors of a war declared and prosecuted against Black people in a major American city. Everyone stood shoulder to shoulder holding a flag with the name of a Burge torture survivor. The line stretched the length of a block.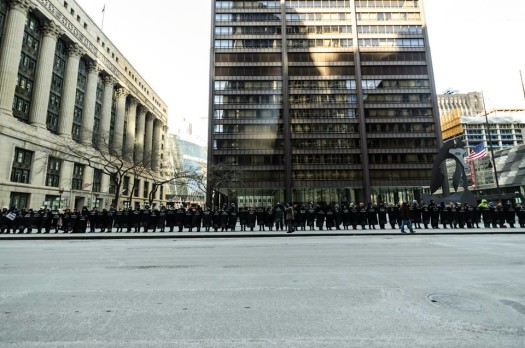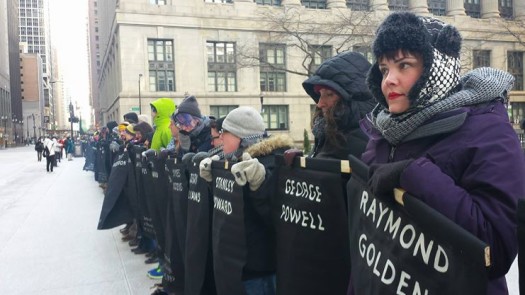 118 documented names. There are many others unknown to us. We honored those people too with our public memorial.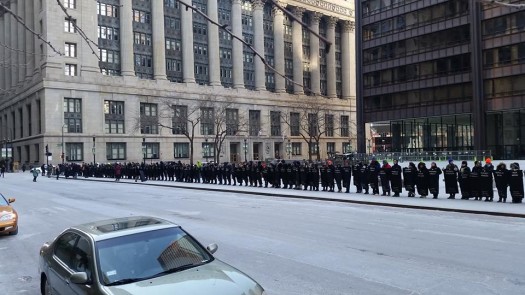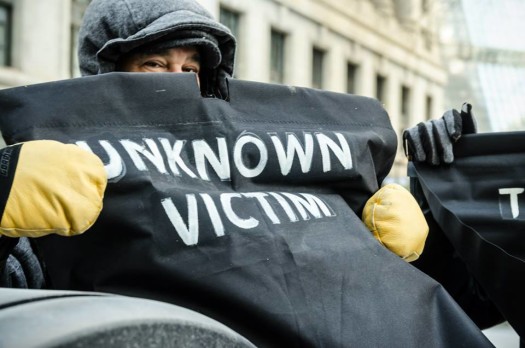 It is hard to look at torture. We want to avert our gaze. We want to keep it abstract and to speak euphemistically. But we must squarely face torture, we must see it. This is the only way that we'll have any chance of addressing the violence done in our name at home and abroad. It is abhorrent. We cannot allow ourselves to be complacent. We mustn't continue to tolerate the intolerable. To do so is to forfeit the right to consider oneself to be a moral being. Burge and his fellow officers tortured people in our backyard. We have a collective responsibility to fight for justice for their victims.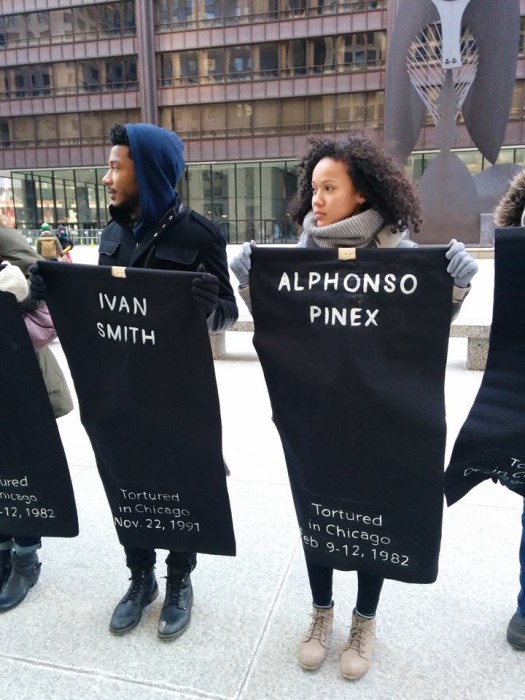 It was fitting that we gathered on Valentine's Day. After all, the struggle for justice for Burge torture survivors is a love story. On Saturday, Chicagoans demonstrated love through their presence and by committing to continued action. bell hooks has written that:
"It is essential to our struggle for self-determination that we speak of love. For love is the necessary foundation enabling us to survive the wars, the hardships, the sickness, and the dying with our spirits intact. It is love that allows us to survive whole."
I am not sure that it is possible for Black people in this country to "survive whole" even as we center love in our lives and our movements for justice. I do know however that love offers the opportunity to build sustaining & affirming communities that can help buffer against the relentless forces of oppression seeking our daily destruction. To lead with love gives us a fighting chance at winning. The people who gathered at the Chicago Temple on Saturday were there to shape a future where we can all be free. Together, we insisted that the affront to the humanity of the torture survivors is a blow against all of us. There was no better message to deliver on Valentine's Day.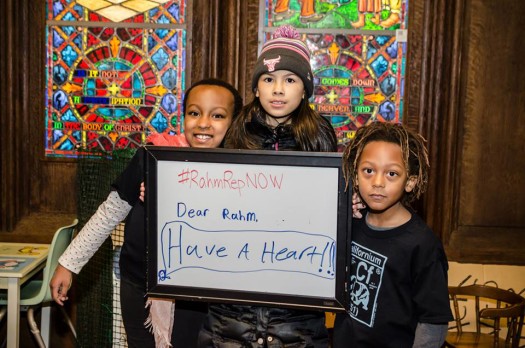 ---
ZNetwork is funded solely through the generosity of its readers.
Donate