A wide range of politicians, voting rights experts, and advocacy groups responded with calls for congressional action on Thursday after the U.S. Supreme Court's right-wing majority upheld voter suppression policies in Arizona—a possible bellwether for how justices may respond to other state-level attacks on the franchise.
Described by one legal analyst earlier this year as Chief Justice John Roberts' "chance to diminish the Voting Rights Act," Brnovich v. Democratic National Committee was about Arizona's ban on third-party ballot collection along with a state policy invalidating ballots cast in the wrong precinct, which the DNC challenged under Section 2 of the VRA.
Justice Samuel Alito delivered the majority opinion (pdf), joined by the other five right-wing members of the high court. Justice Neil Gorsuch also filed a concurring opinion joined by Justice Clarence Thomas. The three liberals' dissenting opinion was filed by Justice Elena Kagan.
The right-wing justices' conclusion that neither Arizona rule violates the VRA and that its ballot collection law does not violate the 15th Amendment provoked fresh calls for Congress to pass not only the For the People Act and the John Lewis Voting Rights Advancement Act but also the Judiciary Act of 2021, which would expand the Supreme Court from nine to 13 justices.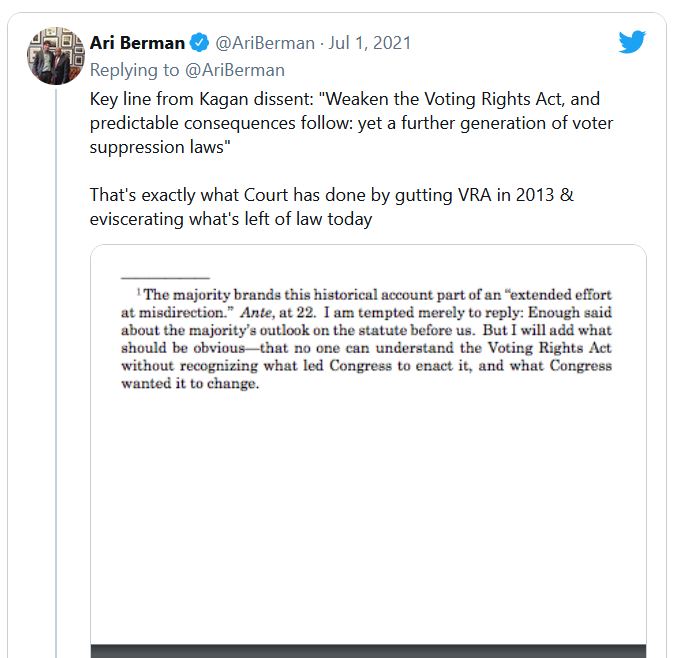 "Today the Supreme Court made it much harder to challenge discriminatory voting laws in court," said Sean Morales-Doyle, acting director of the Voting Rights and Elections Program of the Brennan Center for Justice at New York University School of Law.
"The justices stopped short of eviscerating the Voting Rights Act, but nevertheless did significant damage to this vital civil rights law and to the freedom to vote," he continued. "Congress must act now to strengthen voting rights by passing the For the People Act and the John Lewis Voting Rights Advancement Act."
That call for federal lawmakers to pass both bills was echoed by progressive advocacy leaders, including Greenpeace USA Democracy Team director Folabi Olagbaju, Indivisible co-executive director Leah Greenberg, and People For the American Way president Ben Jealous.
Denouncing the court's decision in Brnovich as "an affront to our democracy and a failure to protect our freedom to vote," Jealous warned that "now Black, Latino, Native American voters who are discriminated against by these policies will not be able to make their voices heard in local, state, and federal elections."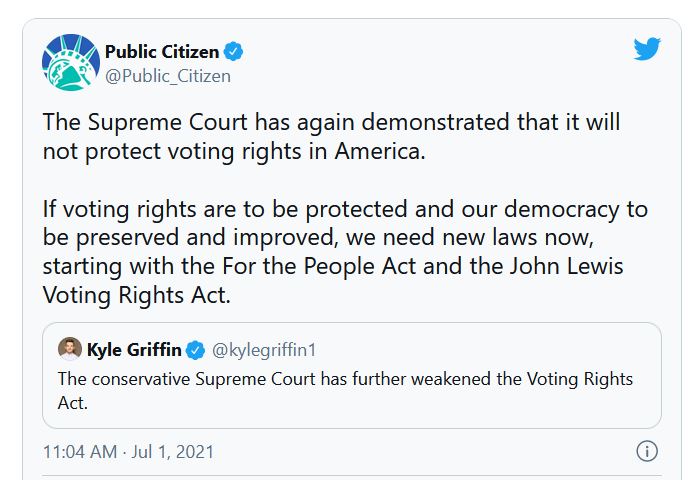 The For the People Act—a sweeping package of popular, pro-democracy reforms—passed the Democrat-controlled House in March but was blocked last month by Republicans in the evenly divided Senate, sparking demands for an end to the filibuster that were reiterated Thursday.
"We will not stand for this sustained attack on voting rights and our democracy," declared MoveOn executive director Rahna Epting, vowing that her group's millions of members will keep pushing for the For the People Act and the John Lewis Voting Rights Act.
"The stakes are too high for the filibuster or a quest for bipartisanship to get in the way," Epting said. "Unless both laws are implemented to counteract this systematic dismantling of our voting process, Republicans will continue their relentless assault on our democracy and rig the rules in their favor, and the voices of millions will be swept away."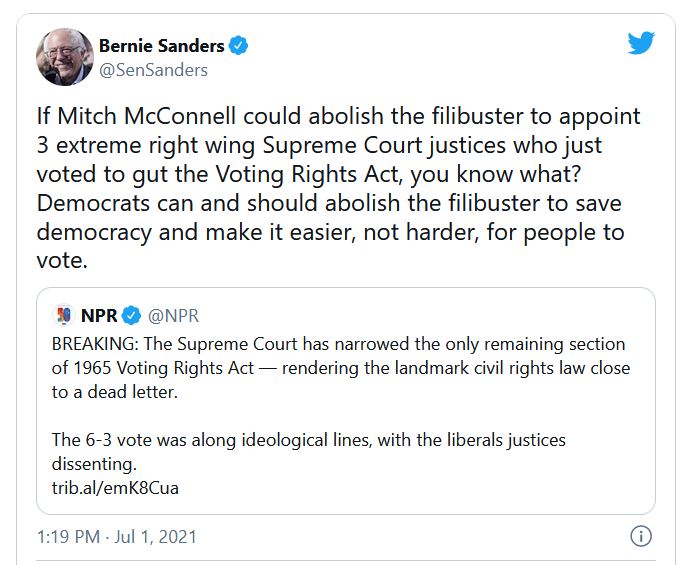 Lawmakers—largely Republicans—in 48 states have introduced at least 389 bills aimed at restricting the right to vote during the 2021 legislative sessions, according to the Brennan Center. As of June 21, 17 states including Arizona had enacted 28 such laws this year.
"The court's ruling in Brnovich v. DNC frees legislatures to continue ramming through a new generation of Jim Crow laws—like those already enacted in Georgia and Florida—to keep many Americans from the polls," asserted Karen Hobert Flynn, president of Common Cause.
"Without swift action from Congress, GOP-controlled state legislatures will continue to pass racist anti-voter laws to pick and choose who votes and who doesn't," she said. "Until Congress acts, there is little to stop the bills introduced around the country to cut weekend voting, trim early voting, dramatically reduce the number of polling places, and get rid of drop boxes."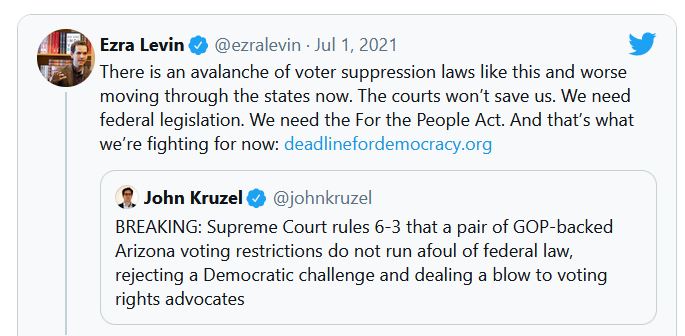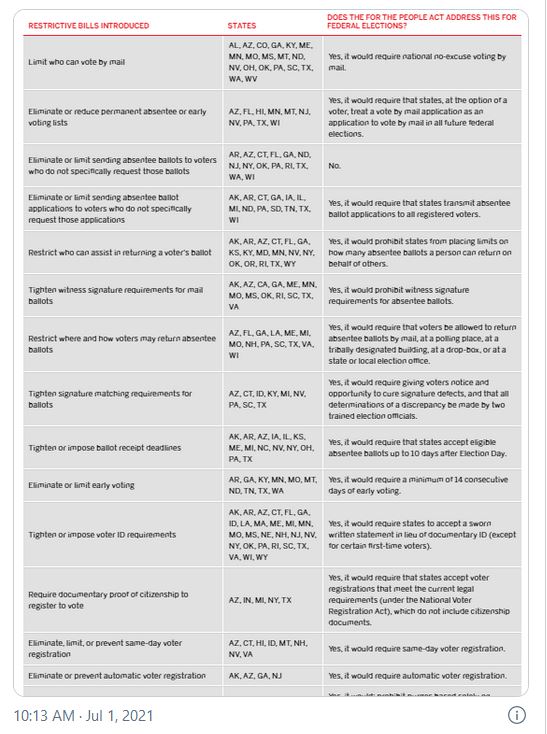 Click here for searchable table
Stand Up America political director Brett Edkins was among many observers who highlighted two lines from Kagan's dissent about the VRA:
What is tragic here is that the court has (yet again) rewritten—in order to weaken—a statute that stands as a monument to America's greatness, and protects against its basest impulses. What is tragic is that the court has damaged a statute designed to bring about "the end of discrimination in voting."
"We cannot let this radical, conservative Supreme Court continue to undermine our democracy, our freedom to vote, and our basic rights," Edkins said. "Congress must act quickly to restore balance to the Supreme Court by passing the Judiciary Act to add four seats to the Supreme Court."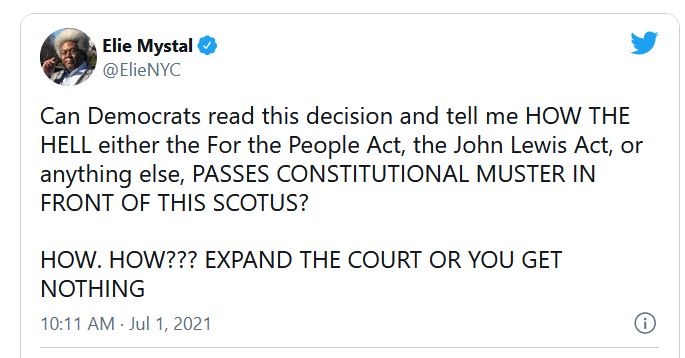 Sen. Ed Markey (D-Mass.), the Judiciary Act's lead sponsor in the upper chamber, framed the ruling as "another blow to voting rights in America, on top of the tsunami of voter suppression laws moving in state legislatures across the country," as well as evidence of the need for reform.
The senator also called out former President Donald Trump and Senate Minority Leader Mitch McConnell (R-Ky.) for stealing two seats on the high court and "using this new conservative majority to suppress the right to vote nationwide."
Markey said:
We must abolish the filibuster and pass the For the People Act and the John Lewis Voting Rights Act this summer, including protecting and expanding voting rights, passing automatic voter registration and same-day voter registration, and ensuring those who have served their time can vote again. We need to get dark money out of our campaigns and we need to end partisan gerrymandering.

And we must pass my Judiciary Act of 2021 to expand the Supreme Court and restore balance to our top court. If we fail to do so, it is a near-certainty that the court's conservative majority will continue to rule in favor of the far-right interests of those that orchestrated the theft of these seats.
The Arizona ruling came on the same day as another 6-3 decision from the high court that struck down California's donor disclosure rule for charities as unconstitutional—a major loss for critics of dark money's influence on U.S. politics.
Senate Majority Leader Chuck Schumer (D-N.Y.) said that "if you believe in open and fair democracy and the principle of one person, one vote, today is one of the darkest days in all of the Supreme Court's history."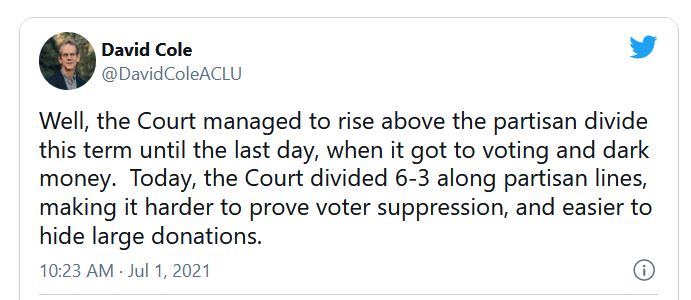 "In the wake of the disastrous Citizens United v. FEC and Shelby County v. Holder decisions—two of the most notorious decisions the Supreme Court has ever issued—the court's conservative majority has only rubbed salt in the wound with their rulings today," Schumer said.
"These decisions today," he added, "only further underscore the need for Congress to act to preserve democracy by ensuring that every eligible American is able to freely exercise their fundamental right to vote and that billionaires are no longer able to buy elections."
[Jessica Corbett is a staff writer for Common Dreams.]
---
ZNetwork is funded solely through the generosity of its readers.
Donate